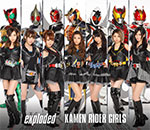 Kamen Rider Girls' 2nd album Exploded will be released on March 19.
The CD contains 14 songs including their latest singles Go get 'em, SSS ~Shock Shocker Shockest~, and E-X-A.
Kamen Rider Girls is the official girls unit of the famous Kamen Rider (仮面ライダー) series.
The trailer of the album has been released.
3 versions are available. The bonus tracks are different for each one of them.
Type A edition comes with 2 DVDs with 10 music videos.
Type B edition includes live footage of Kamen Rider Girls Live at Shibuya WWW.
Furthermore, the unit will perform Break the Shell which is the theme song for the PS3 / Wii U video game Kamen Rider Battride War II (仮面ライダー バトライド・ウォーⅡ).
Tracklist
Type A
CD

exploded
Warning! Burning!
E-X-A (Exciting × Attitude)
Toki no Hana (時の華)
Atomic Girl
Go get 'em
Days! (デイズ!)
Primary colors
Climax Jump Erica form
SSS ~Shock Shocker Shockest~
Mission Complete
Overdrive Generation
L.U.V. ~Love Under Virginia~
– Bonus Track –
Mitei (未定)
Days! (デイズ!) (Nagura Kaori ver.)
Primary colors (Endo Mitsuki ver.)

DVD
Type B
CD

exploded
Warning! Burning!
E-X-A (Exciting × Attitude)
Toki no Hana (時の華)
Atomic Girl
Go get 'em
Days! (デイズ!)
Primary colors
Climax Jump Erica form
SSS ~Shock Shocker Shockest~
Mission Complete
Overdrive Generation
L.U.V. ~Love Under Virginia~
– Bonus Track –
Mitei (未定)
Days! (デイズ!) (Isaka Hitomi ver.)
feeling… (Primary colors rewriting by Akita Chisato ver.)

DVD

Kamen Rider Girls Live at Shibuya WWW
Type C
CD

exploded
Warning! Burning!
E-X-A (Exciting × Attitude)
Toki no Hana (時の華)
Atomic Girl
Go get 'em
Days! (デイズ!)
Primary colors
Climax Jump Erica form
SSS ~Shock Shocker Shockest~
Mission Complete
Overdrive Generation
L.U.V. ~Love Under Virginia~
– Bonus Track –
Mitei (未定)
Days! (デイズ!) (Yasuda Nao ver.)
Kaerimichi (帰り道) (Primary colors rewriting by Sumi Tomomi Jiena ver.)
Trailer