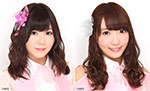 Kaneko Shiori and Iguchi Shiori announced their graduation from SKE48.
Both girls are members of SKE48 Team E.
They will continue to participate in various activities with the idol group from Nagoya until April 29.
Kaneko Shiori explained that she was going to enter at university this spring. She wants to pursue her career in the show business. Her goal is to become a model for fashion magazines.
Iguchi Shiori said that she wanted to experience new things as she is a member of the idol group for 5 years.
Both members of SKE48 had already announced that they were not candidates for the 6th AKB48 Senbatsu General Election 2014 (AKB48 選抜総選挙 2014).