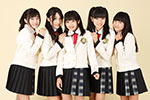 Karat☆ announced their disbandment.
The 5 members of the idol group are going to stop their activities in June.
A message posted on their official website explains that this decision is due to difficulties in the organizational structure of their management agency.
The date of Karat☆ graduation live and ceremony hasn't been determined yet.
As a result, the release of theiir 1st album has been cancelled.
Karat☆ was formed in February 2012. They released 5 singles since their debut.
The members are also ambassadors for the Japan Karaage Association (日本唐揚協会) which is dedicated to fried chicken.