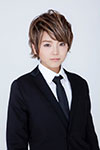 Kariyase Light joined Fudanjuku as a new member.
The idol group is now consisting of 7 members. She is replacing Bukiya Momotaro who graduated in October.
Kariyase Light's real name is Shimokariya Kanae. She is 21 years old and she is from Osaka.
Shimokariya Kanae was working until now as a girl talent for K Dash Stage which is the same agency as the idol unit.
Furthermore, Fudanjuku will hold live performances on January 17 and on February 11 at Nikofarre, Tokyo. They will also give concerts in March in Osaka, Nagoya and Tokyo.
Fudanjuku Ranbu Rappu Tour 2014 (風男塾乱舞 Tour 2014) will be released on DVD and Blu-ray on March 18.