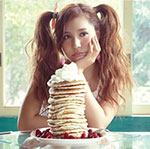 Kasai Tomomi's new single Kietaikurai (キエタイクライ) will be released on January 15.
This is the 3rd solo single from the former AKB48 member Kasai Tomomi.
The limited editions include a DVD with the music video, the making-of, a documentary and other bonus footage.
The short version of the MV has been released.
The theme of the single is "the sea". Kietaikurai is a sentimental song. The lyrics and the music were written by Kurei and Iseki from the pop group Kimaguren (キマグレン).
Furthermore, Kasai Tomomi held her 1st solo live on December 18 at Yokohama Red Brick Warehouse.
Type A
CD

Kietaikurai (キエタイクライ)
Touch Me!
Lovely Days
Kietaikurai (キエタイクライ) (Instrumental)
Touch Me! (Instrumental)
Lovely Days (Instrumental)
DVD

Kietaikurai (キエタイクライ) (Music Video)
Kietaikurai (キエタイクライ) (Making-of)
Sunny Days -Kasai Tomomi in Hawaii-
Type B
CD

Kietaikurai (キエタイクライ)
Blue…
Lovely Days
Kietaikurai (キエタイクライ) (Instrumental)
Touch Me! (Instrumental)
Blue… (Instrumental)
DVD

Kietaikurai (キエタイクライ) (Music Video)
Me Ke Aloha ~Letter From Tomomi~
Documentary of Solo Debut Special Live (2013/2/16 @ Yokohama Blitz)
Type C
CD

Kietaikurai (キエタイクライ)
Touch Me!
Lovely Days
Blue…
Kietaikurai (キエタイクライ) (Instrumental)
Touch Me! (Instrumental)
Lovely Days (Instrumental)
Blue… (Instrumental)
Music Video (PV)