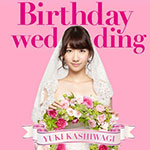 Kashiwagi Yuki (AKB48) will release her 2nd solo single Birthday Wedding on October 16.
3 types of CD are available. They contain 3 songs and their instrumental versions. The coupling track is different for each one of them.
All editions include a DVD featuring bonus footage.
The limited editions come with a trading card and a lottery ticket for the concert of Kashiwagi Yuki, titled Yukirin Dharma (ゆきりんだるま), scheduled on November 7 at Yokohama Arena.
It will be the CM song for the wedding magazine Zexy. A special issue of the magazine with Kashiwagi Yuki on the and limited to 500 units was released on September 23 on Seven Net.
Type A
CD

Birthday Wedding
Demo ne Zutto (でもねずっと)
Anata to Watashi (あなたと私)
Birthday Wedding (Instrumental)
Demo ne Zutto (でもねずっと) (Instrumental)
Anata to Watashi (あなたと私) (Instrumental)
DVD

Papa wa Boukenka (パパは冒険家) The Wedding is in three days)
Papa wa Boukenka (パパは冒険家) (Making-of)
Type B
CD

Birthday Wedding
Demo ne Zutto (でもねずっと)
Kuchiutsushi no Chocolate (口移しのチョコレート)
Birthday Wedding (Instrumental)
Demo ne Zutto (でもねずっと) (Instrumental)
Kuchiutsushi no Chocolate (口移しのチョコレート) (Instrumental)
DVD

Birthday Wedding (Music Video)
Making of Propose "Saretai" Zexy Kashiwagi Yuki Tokubetsu Henshuuchou (プロポーズ"されたい"ゼクシィ 柏木由紀特別編集長)
Kashiwagi Yuki no Katte na Corner 1 Kame Show (柏木由紀の勝手なコーナー 1カメShow)
Type C
CD

Birthday Wedding
Demo ne Zutto (でもねずっと)
Ashita mo Waraou (明日も笑おう)
Birthday Wedding (Instrumental)
Demo ne Zutto (でもねずっと) (Instrumental)
Ashita mo Waraou (明日も笑おう) (Instrumental)
DVD

Papa wa Boukenka – The Wedding is in three days (パパは冒険家 The Wedding is in three days)
Kinkyuu Kenshou Kashiwagi Yuki no Fashion wa Dasai no ka !? (緊急検証 柏木由紀のファッションはダサいのか!?)
CM Video