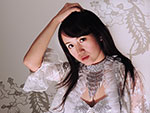 Eriko is a Japanese idol, singer, model and "talent". Her full name is Kawasaki Eriko.
She is a member of the K-ble Jungle project. Along with DJ Shiru, she holds regular live performances in Italy and in Europe.
Biography
Kawasaki Eriko was born in Nagasaki.
Eriko debuted her career in Japan. She appeared in some commercials and as a guest in TV shows. She also worked a model for various magazines and websites.
She graduated from a music school in Japan. She plays piano and trumpet.
Eriko moved to Italy a few years ago to study opera music at the Conservatory.
In Europe, she is also a model. She appeared in cosplay costumes, kimono and traditional Japanese outfits at festivals.
She is a member of the Association of friendship between Japan and Italy Ochacaffè (Associazione Amicizia Italia-Giappone Ochacaffè).
Eriko formed the band K-ble Jungle with DJ Shiru in 2013. The duo participates in various Japanese festivals in Europe. They perform covers of anime soundtracks, J-pop and J-rock original songs.
K-ble Jungle held a live tour in Japan in the summers of 2013 and 2014. The band gave concerts in Tokyo, Osaka and Nagoya.
Their 1st mini-album was released in Italy, Japan and Switzerland in November 2014.
Kawasaki Eriko participated in Napoli Comicon and Katagames in 2014 in Italy along with Bakusute Sotokanda Icchome. She has worked with other idols in the past.
Profile
Kawasaki Eriko
Label : –
Agency : Ochacaffè
Discography
Singles
2013 : Cable Jungle
2014 : Colorful CD
2014 : Remixes
2014 : Oikakete Future
Albums
Links