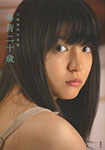 Kawashima Umika (9nine) released her new photobook Umika Hatachi (海荷二十歳) on March 21.
Kawashima Umika celebrated her 20th birthday on March 3.
Umika Hatachi shows her transformation into a sexy adult.
This photobook contains several photos from her childhood to today. It includes  photos of the member of 9nine posing in swimswuit at the beach or in student uniform at the university campus, petting her dog Vanilla…
It also includes a long interview with Kawashima Umika.