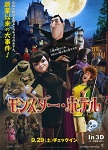 Kawashima Umika (9nine) will voice the character of Mavis (メイヴィス) in the animated movie Hotel Transylvania (モンスター・ホテル).
Mavis is Dracula's teenage daughter and the film's heroine. This role is played by Selena Gomez in the US version.
The movie is released in theaters on September 29 in Japan and on September 28 in USA.
Plot
Dracula is the owner and creator of Hotel Transylvania, a five-star resort where the world's monsters can be safe from human civilization. Dracula invites some of the most famous monsters (Frankenstein, the Mummy, Werewolf, the Invisible Man, Bigfoot…) to celebrate the 118th birthday of his daughter Mavis. However Jonathan, an ordinary young traveler, enters the hotel…
Trailer