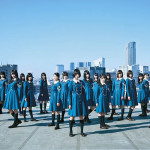 Keyakizaka46 (欅坂46) is a Japanese idol group formed in 2015.
It currently consists of 21 members.
Keyakizaka46 is a sister group of Nogizaka46 (乃木坂46). They are also produced by Akimoto Yasushi.
Biography / History
The project was announced in the spring of 2015. The original name of the idol group was Toriizaka46 (鳥居坂46). It was derived from the name of the Toriizaka sloped road, next to Zepp Blue Theater, where Nogizaka46 members were active.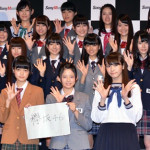 22509 girls participated in the audition held during the summer of 2015, but only 22 were selected including one who declined.
The 1st generation members were unveiled in August 2015.
During the same event, it was announced that the unit had been renamed Keyakizaka46 (欅坂46).
The variety show Keyakitte, Kakenai? 欅って、書けない?) started airing on TV Tokyo in October 2015. The presenters are comedians Uchida Teruyuki and Sawabe Yu (Haraichi). The program aims to introduce the members of the idol group.
Their first live event Omitatekai (お見立て会) took place in November 2015. 4000 fans attended the performance.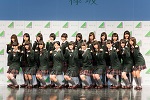 Harada Mayu withdrew in November 2015 because of a scandal. It was revealed that she had a love relationship with a former teacher when she was underage.
Nagahama Neru joined the idol group in late November 2015. She was unable to participate in the final round of Keyakizaka46 audition in Tokyo because she was brought back home in Fukuoka by her mother. The staff accepted to give her another chance, and she was finally recruited after passing a special audition.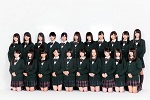 Nagahama Neru is currently the only girl to be part of the sub-unit Hiragana Keyakizaka46 (けやき坂46). Other members will be recruited in the spring of 2016.
Their official Twitter account was opened in December 2015.
Sato Shiori appeared on the cover of Big Comic Spirits (週刊ビッグコミックスピリッツ) magazine in January 2016.
The girls participated in commercials for Mechakari (メチャカリ) in March 2016.
Keyakizaka46's debut single Silent Majority (サイレントマジョリティー) was released in April 2016.
Profile
Keyakizaka46 (欅坂46).
Years active : 2015 – present
Label : Sony Music Records
Agency : Akimoto Yasushi
Members
欅坂46
Ishimori Nijika (石森虹花)
Imaizumi Yui (今泉佑唯)
Uemura Rina (上村莉菜)
Ozeki Rika (尾関梨香)
Oda Nana (織田奈那)
Koike Minami (小池美波)
Kobayashi Yui (小林由依)
Saito Fuyuka (齋藤冬優花)
Sato Shiori (佐藤詩織)
Shida Manaka (志田愛佳)
Sugai Yuka (菅井友香)
Suzumoto Miyu (鈴本美愉)
Nagasawa Nanako (長沢菜々香)
Habu Mizuho (土生瑞穂)
Harada Aoi (原田葵)
Hirate Yurina (平手友梨奈)
Moriya Akane (守屋茜)
Yonetani Nanami (米谷奈々未)
Watanabe Rika (渡辺梨加)
Watanabe Risa (渡邉理佐)
けやき坂46
Former Members
Discography
Singles
06/04/2016 ; Silent Majority (サイレントマジョリティー)
Albums
Links
News