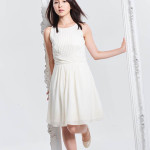 Kikkawa You's 10th single Ha wo Kuishibare! / Charming Shoubu Sedai (歯をくいしばれっっ! / チャーミング勝負世代) will be released on June 1st.
Famous J-Pop singer-songwriter Oomori Seiko wrote the lyrics and composed the music of Ha wo Kuishibare! for Kikkawa You.
It was arranged by Sakurai Kenta who worked on Oomori Seiko's last album Tokyo Black Hole.
Rihi and Tatsuya Okuwaki, from the band Akasick, were in charge of Charming Shoubu Sedai. It is a rock song.
The Type A limited edition comes with a DVD featuring the music videos and making-of footage of both songs.
The Type B includes a bonus track which is still untitled.
In addition, Kikkawa You Birthday Tour 2016 will be held on May 1-8. Live performances are scheduled in Osaka, Nagoya and Tokyo.
Kikka will turn 24 years old on May 1st.
Tracklist
CD

Ha wo Kuishibare! (歯をくいしばれっっ!)
Charming Shoubu Sedai (チャーミング勝負世代)
Ha wo Kuishibare! (Instrumental)
Charming Shoubu Sedai (Instrumental)
DVD

Music Video
Making-of