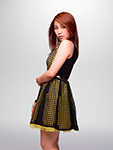 Kikkawa You's 7th single Urahara Temptation / Iijan (Uraharaテンプテーション / いいじゃん) will be released on June 25.
This long-awaited single is a double A-side. It celebrates the 3rd anniversary of Kikkawa You's solo debut.
The MV has been released.
The lyrics of both songs were written by Nobe. The music was composed by michitomo.
The limited edition includes a bonus DVD with the music videos.
Furthermore, Kikkawa You is starring in the Tokusatsu drama Kanpai Senshi After V (乾杯戦士アフターV) airing between April and June.
Kikka will be the guest of Anime Friends 2014 in Brazil in July.
Tracklist
CD

Urahara Temptation (Uraharaテンプテーション)
Iijan (いいじゃん)
Urahara Temptation (Uraharaテンプテーション) (Instrumental)
Iijan (いいじゃん) (Instrumental)
DVD

Urahara Temptation (Uraharaテンプテーション)
Iijan (いいじゃん)
Music Video (PV)