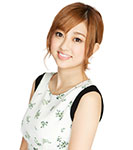 Kikuchi Ami announced her graduation from Idoling!!!.
Kikuchi Ami's graduation ceremony will take place during Idoling!!! 14th Live (アイドリング!!!14thライブ) on November 24 at NHK Hall, Tokyo.
Amimi explained that she had decided to leave the group in order to become a talent in variety shows.
Kikuchi Ami, 23 years old, joined Idoling!!! as a 2nd generation member 6 years ago in April 2008. She is #16.