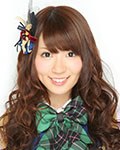 Kikuchi Ayaka announced her graduation from AKB48.
Kikuchi Ayaka is a member of AKB48 Team A. She will leave the idol group from Akihabara after her graduation ceremony and a last live performance on April 21 at their theater.
She explained that she wanted to pursue her career as a model or in the fashion industry.
She had already announced that she was not candidate for the 6th AKB48 Senbatsu General Election 2014 (AKB48 選抜総選挙 2014).
Kikuchi Ayaka is 20 years old. She joined AKB48 as a 3rd generation member in 2007. She was dismissed in July 2008 because of a scandal. She re-auditioned in December 2008 and was allowed to join the idol unit a second time.