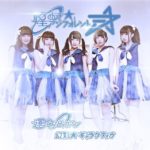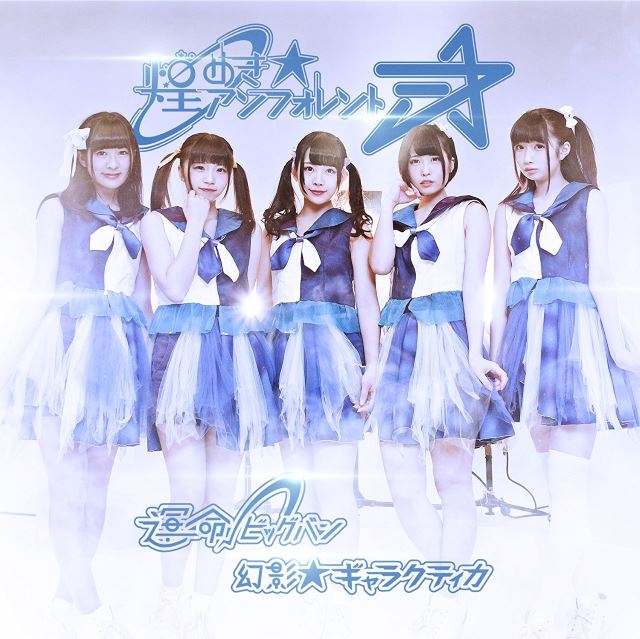 Kirameki☆Anforent's very first single, Unmei √ Big Bang / Genei ★ Galactica (運命√ビッグバン / 幻影★ギャラクティカ) reached the number 2 spot on the Oricon Daily Chart on April 3 behind Nogizaka46's Influencer.
In conjunction with the chart ranking, the music video for Unmei √ Big Bang was released on YouTube.
Furthermore, the music video for A-side Genei ★ Galactica, released on March 28, has garnered much press due to the presence of the attention-grabbing mysterious gentleman.
The video starts with a few simple dance shots, but then a mysterious figure with impeccable dance moves enters the scene. The identity of the mysterious dancing figure? ParcManther 3, rapper of Nanshiki Globe '13. He made his big break on TBS' variety show segment, B-Rap High School as part of the "nanshiki globe" duo. In 2013, he rebranded as ParcManther 3. He has since been featured in large-scale events such as Rockin' Japan, Niconico Cho-Kaigi, Moshimo Nippon, and alongside Exil, and in the music video for Up Up Girls (Kakko Kari) Pearly People Alien.
Moreover, Kirameki☆Anforent member Matsui Rana will be on air on her new program, Rana ga yaru nara (play on words translating to both "As Rana Does It" and "As Rana does Nara Prefecture") in which she introduces her hometown Nara Prefecture. The program will air on TVN Nara every Tuesday from 1:25 am from April 4. You can also check it out on the YouTube channel at the following link : http://www.naratv.co.jp/rana-nara/
Kirameki☆Anforent, also known as Kirafore, is 5-girl idol unit based in Nagoya in the Tokai Region.
Tracklist
Regular Edition

Unmei √ Big Bang (運命√ビッグバン)
Genei ★ Galactica (幻影★ギャラクティカ)
Unmei √ Big Bang (Instrumental)
Genei ★ Galactica (Instrumental)
Type A

Unmei √ Big Bang
Genei ★ Galactica
Ryuusei ☆ Romantica (流星☆ロマンティカ)
Unmei √ Big Bang (Instrumental)
Genei ★ Galactica (Instrumental)
Ryuusei ☆ Romantica (Instrumental)
Type B

Unmei √ Big Bang
Genei ★ Galactica
Yuki no Kakera * (雪のカケラ*)
Unmei √ Big Bang (Instrumental)
Genei ★ Galactica (Instrumental)
Yuki no Kakera * (Instrumental)
Edition : Regular / Type A – B
Music Video (PV)