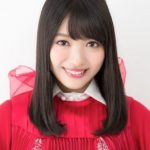 Kitahara Rie announced her graduation from NGT48.
This announcement was made by herself on August 21 during a concert celebrating the 2nd anniversary of the NGT48 at the Niigata City History Museum.
Kitahara Rie, nicknamed Kitarie (きたりえ), is the captain of Team NII from NGT48 since 2016. She joined AKB48 in October 2007 as a trainee member (Kenkyuusei) and a 5th generation member of AKB48 ; she was transferred to Team A in 2008 for her debut, Team B in 2009 and Team K as vice-captain in 2012. She became a member of the Team S from SKE48 in 2012 before being transferred to NGT48 in 2015.
The real reasons for her departure but we think she wants to pass the torch to younger girls and work in other areas. Indeed, she specified that, after her departure, she would like to work on films and drama series.
The date of graduation has not yet been determined but it has been said that she will leave the group by spring 2018.
Born on June 24, 1991, Kitahara Rie is, at 26, the oldest member of NGT48.