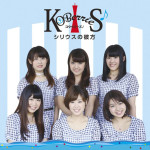 KOBerrieS♪ new single Sirius no Kanata (シリウスの彼方) will be released on August 6.
This is the 2nd major single from KOBerrieS♪.
The MV has been unveiled.
3 editions are available. The track listing is the same for each one of them. Only the CD cover is different.
KOBerrieS♪ is a local idol group from Kobe. The girls are going to participate in various events in this area during the summer.
Tracklist
Sirius no Kanata (シリウスの彼方)
Sotsugyou (タイムマシン)
Sirius no Kanata (Instrumental)
Time Machine (Instrumental)
Music Video (PV)