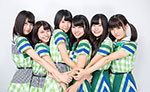 KOBerrieS♪ is a Japanese idol group formed in July 2012
It current)=p)màly consists of 5 members. Each one has been assigned a color.
The idol unit is based in Kobe.
The captain is Manaka Mei.
Ito Yuuri is the vice-captain.
Biography / History
KOBerrieS♪ have already held live performances in more than 200 events in Kobe area. They promote local activities.
The girls host the radio show KOBerries♪ no Gyutto Shitte!! (KOBerrieS♪のギュッとして!!) broadcast weekly on Radio Kansai (ラジオ関西).
In July 2012, the 1st generation members were Mei, Yuuri, Kana, Chizuru, Arisa, Mayu, Miyuu, Marin, Ikue and Ayane.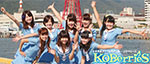 Nana and Himari joined the idol group as 2nd generation members in May 2013.
Their 4th single Mirai Shounen Shoujo (未来少年少女), released in February 2014, was their first one for sale in the whole country. It also marked their major debut.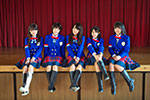 KOBerrieS♪ 6th single Omoide Yell, released in January 2015, was produced by Gagaga SP's guitarist Yamamoto Satoshi. This song was written to support Kobe for the 20th anniversary of the earthquake that hit the area.
Hamaguchi Risa, Inaoka Shiori and Minamikawa Nao were added as 3rd generation members in January and in May 2015.
The real names of the girls were revealed in May 2015. Prior to this date, only their firstnames were known.
In October 2015, KOBerrieS♪ collaborated with local producers to promote Kobe Okamoto Dolce sweets.
Profile
KOBerrieS♪ (コウベリーズ)
Years active : 2012 – present
Label : For Life Music
Agency : Kobe Pop
Members
Manaka Mei (間中芽衣) – Red
Ito Yuuri (伊藤優里) – Light Blue
Yamashita Kana (山下香奈) – Pink
Hamaguchi Risa (濱口莉紗) – White
Inaoka Shiori (稲岡志織) – Purple
Former Members
Chizuru (千鶴)
Arisa (有彩)
Himari (陽真莉)
Mayu (茉由)
Miyuu (美優)
Marin (真凛)
Ikue (郁恵) – Purple
Ayane (あやね) – Yellow
Minamikawa Maho (南川真穂) – Lemon
Nana (奈那 / 巽万柚菜) – Red
Discography
Singles
15/07/2012 : Love Never Dies
06/01/2013 : Zettai Saigo Osamu Koi Sengen (絶対最後乃恋宣言)
14/09/2013 : Natsuiro Taiyou (夏色太陽)
19/02/2014 : Mirai Shounen Shoujo (未来)
06/08/2014 : Sirius no Kanata (シリウスの彼方)
14/01/2015 : Omoide Yell (思い出エール)
02/09/2015 : Chiguhagu Communication / Glory Days (チグハグコミュニケーション / Glory Days)
Albums
27/04/2013 : Ryuusei Transistor (流星☆トランジスタ)
Links
News