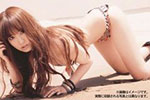 Kojima Haruna 1st photobook Kojiharu (小嶋陽菜1stフォトブック こじはる) will be released on December 24.
The photobook includes various gravure pictures, a long interview of the popular member of AKB48 Kojima Haruna, and more.
Kojiharu has 144 pages. The book is published by Kodansha (講談社Mook).
Furthermore, Kojima Haruna is the center of AKB48's 33rd single Heart Ereki (ハート・エレキ) on sale since October 30.