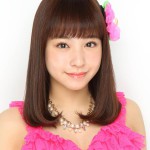 Kondo Rina announced her graduation from NMB48.
This announcement was made on January 15 during Team M's performance at NMB48 Theater in Osaka.
She said that she wants to focus other dreams. She will be working hard to become an actress.
She also reported her graduation on her official Twitter account, "I haven't decided exactly what I'm going to do yet, but my dreams of becoming an actress haven't changed. I want to continue to do my best."
Kondo's graduation concert will be held on January 27th.
Kondo Rina is a member of NMB48's first generation. She joined the group in 2010 for the Team N. She became a Team M member in March 2014. She is 18 years old.