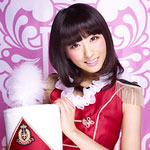 Kotone Mai's new single Dancin' High School ダンシン☆ハイスクール) will be released on February 26.
This is the 2nd major single from Kotone Mai.
The lyrics and the music of Dancin' High School (ダンシン☆ハイスクール) were written by Momoi Haruko. The song was arranged by Haraddy.
4 versions are available. Each one of them has a different coupling track and its own CD cover.
The limited editions include an audio message from Kotone Mai.
Furthermore, Kotone Mai will hold live performances on April 5 in Nagoya, on April 6 in Osaka, and on April 13 in Tokyo. This concert tour will celebrate the 5th anniversary of the debut of the idol.
Tracklist
Regular Edition

Dancin' High School (ダンシン☆ハイスクール)
Kanojo ni Shite! (彼女にして!)
Dancin' High School (ダンシン☆ハイスクール) (Instrumental)
Kanojo ni Shite! (彼女にして!) (Instrumental)
Type A

Dancin' High School (ダンシン☆ハイスクール)
Namida Iro Silent (涙色サイレント)
Dancin' High School (ダンシン☆ハイスクール) (Instrumental)
Namida Iro Silent (涙色サイレント) (Instrumental)
Mainya Voice (Ohayou) (まいにゃvoice(おはよう))
Type B

Dancin' High School (ダンシン☆ハイスクール)
Diary (ダイアリー)
Dancin' High School (ダンシン☆ハイスクール) (Instrumental)
Diary (ダイアリー) (Instrumental)
Mainya Voice (Ganbatte) (まいにゃvoice(がんばって))
Type C

Dancin' High School (ダンシン☆ハイスクール)
Go Ahead!
Dancin' High School (ダンシン☆ハイスクール) (Instrumental)
Go Ahead! (Instrumental)
Mainya Voice (Oyasumi) (まいにゃvoice(おやすみ))