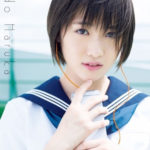 The new photobook of Kudo Haruka (Morning Musume '17) will be released on October 27.
The self-titled photoook will be the last photobook of Kudo Haruka to be released under Hello! Project. Indeed, Haru-chan will graduate from Morning Musume. '17 and Hello! Project on December 11.
The photos were shot by Honda Akiko.
The covers show Kudo Haruka wearing a seifuku and a bikini.
The photobook will be released in regular version and an exlusive version sold on Amazon.