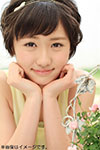 Kudo Haruka's solo DVD Haruka ~Thirteen~ (遥 ~Thirteen~) will be released in May.
It is the 2nd solo DVD from Morning Musume 10th generation member Kudo Haruka in the e-Hello! series. The title refers to her age.
The item can be pre-ordered at e-LineUP! from March 22 to April 10. It is also on sale on CDJapan.
Kudo Haruka – Haruka ~Thirteen~ (Video Preview)