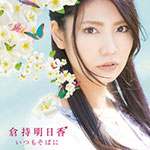 Kuramochi Asuka's debut solo single Itsumo Soba ni (いつもそばに) will go on sale on May 29.
The single is released as the prize for the victory of Kuramochi Asuka in AKB no Gachi Uma 2 Revenge (AKBのガチ馬2 リベンジ), a contest in which the members of AKB48 give tips on the G1 horse race. It will be the theme song for the TV CM for JRA (Japan Racing Association).
5 "500 yen" editions are available. Each one of them has a different jacket designed by a magazine : Young Champion, Friday, B.L.T., Weekly Playboy, and Weekly Big Comic Spirits. They also come with a voting ticket for the best cover.
The CD+DVD edition includes a bonus track and a DVD featuring the music video and the making of Kuramochi Asuka TV-CM shooting.
Tracklist
Edition "500 yen"

CD

Itsumo Soba ni (いつもそばに)
Guuzen no Mikata (偶然の味方)
Itsumo Soba ni (いつもそばに) (Instrumental)
Guuzen no Mikata (偶然の味方) (Instrumental)
Type A

CD

Itsumo Soba ni (いつもそばに)
Guuzen no Mikata (偶然の味方)
Himawari (向日葵)
Itsumo Soba ni (いつもそばに) (Instrumental)
Guuzen no Mikata (偶然の味方) (Instrumental)
Himawari (向日葵) (Instrumental)

DVD

Itsumo Soba ni (いつもそばに) (Music Video)
Making of Kuramochi Asuka TV-CM Shooting
Music Video (PV)