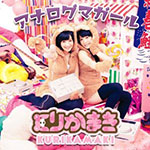 Kurikamaki's new single Analog Ma Girl (アナログマガール) will be released on August 21.
This is the debut single from Kurikamaki.
The CD contains 3 songs and their instrumental versions. Only one edition is available.
The lyrics of the title song were written by kyon. The music was composed by Watanabe Yosuke and arranged by Shiraishi Satori.
Tracklist
Analog Ma Girl (アナログマガール)
Hello!!
Chap Chap
Analog Ma Girl (アナログマガール) (Instrumental)
Hello!! (Instrumental)
Chap Chap (Instrumental)