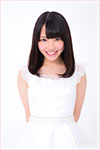 Kyogoku Tomoka (京極友香) left Sunmyu on January 17.
She decided to leave Sunmyu in order to turn to other endeavours. She wishes to stay in the entertainment. She is willing to become a professionnal dancer, her greatest dream.
Kyogoku Tomoka had announced her graduation to her fans last December and she thanked them for their support.
Tomoka is one of the original members of the idol group. She's aged 17.
Furthermore, Sunmyu will release their new single Hajimari no Melody on next March 18. It will be their first disc as a septet.