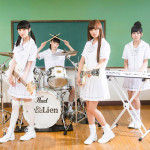 Le Lien is a Japanese female rock band and idol group.
It currently consists of 4 members.
Biography / History
Le Lien is part of Stardust Promotion like Momoiro Clover Z, Shiritsu Ebisu Chuugaku, Team Syachihoko, Tacoyaki Rainbow…
The name of the band comes from the French word "lien" meaning "link".
Each member plays an instrument. They perform rock songs.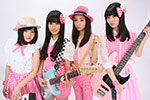 The concept of the idol group is to combine fashion and music.
The girls are also active as models.
Le Lien was created in November 2013.
They held their first live in March 2014.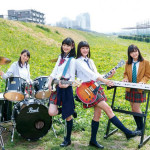 Their 1st mini-album 530 Nichi (530日) reached the 1st rank in the indies album category on the Oricon weekly chart in April 2015.
Le Lien participated in Japan Expo 2015 in Paris Nord Villepinte, France, in July. This event was their first overseas live performance.
The idol group is going to release its major debut single Ganbari Doki (がんばりDoki) in September 2015 under Universal Music Japan label. It features cover songs from Shiritsu Ebisu Chugaku and Team Syachihoko.
The name of their fan club is "famille" (ファミーユ ; family).
Their goal of the girls is to give a concert at Nippon Budokan.
Profile
Le Lien (ルリアン)
Years active : 2013 – present
Label : Universal Music Japan
Agency : Stardust Promotion
Members
Shione (澤田汐音) – Vocal & Guitar
Karin (小山内花凜) – Bass
Minami (三瓶みなみ) – Keyboard
Hikari (田代ひかり) – Drums
Discography
Singles
02/09/2015 : Ganbari Doki (がんばりDoki)
Albums
Mini-Albums
29/04/2015 : 530 Nichi (530日)
Links
News