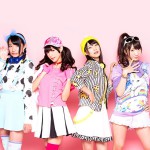 LinkSTAR's (リンクSTAR`s) is a Japanese idol group formed in 2011.
They were formerly known as Links (リンクス) and Idol Tokiwa (アイドルトキワ荘).
The unit currently consists of 4 members. Each one has been assigned an emblem.
Biography / History
LinkSTAR's were created under the name of Idol Tokiwa (アイドルトキワ荘) in February 2011. The 3 original members were Fukumi Maki, Onuki Sayaka and Saito Mitsue.
Ono Miku and Kan Natsumi joined them in July 2011.
The idol group was renamed Links in July 2011.
Onuki Sayaka, Fukumi Maki and Lan Natsumi announced successively their graduation in October, November and December 2011.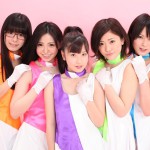 As a result, Ishikawa Misato, Chigira Kiyume and Sezaki Yui were recruited in March 2012.
The mini-album Tsuna Son (つなソン) was released in August 2012.
Ito Marina, Otomo Haru, Sato Arisa, Ayakawa Hinano became new members of the idol group in August 2012.
Sezaki Yui left a few days later.
In October 2012, Ono Miku announced her graduation. She was replaced by Yanaka Yuisa.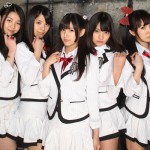 Their 1st single Kami Kai Syndrome (神回シンドローム) went on sale in February 2013.
The girls held 1st one-man live in November 2013 at Tokyo Kinema Club.
As a gravure idol, Sato Arisa released the solo DVD Summer Blink (ナツ、瞬(まばたき)。) in January 2014.
Saito Mitsue graduated in August 2014.
Their 1st album Links to You was released in September 2014.
Sato Arisa's 2nd DVD Churatto Summer (ちゅらっとサマー) went on sale in November 2014. The video was filmed in Okinawa.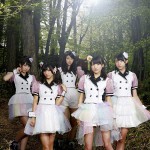 Haneda Mana was recruited in March 2015.
The idol group was renamed LinkSTAR's (リンクSTAR`s) in March 2015.
Sato Arisa changed her name to Matsunaga Arisa in August 2015.
Yanaka Yuisa graduated in September 2015.
Profile
LinkSTAR's (リンクSTAR`s) / Links (リンクス)
Years active : 2011 – present
Label : –
Agency : Fitone
Members
Matsunaga Arisa (松永有紗) / Sato Arisa (佐藤ありさ) – Star
Ayakawa Hinano (彩川ひなの) – Strawberry
Otomo Haru (大友波瑠) – Pink
Haneda Mana (羽田愛菜) – Wing
Former Members
Onuki Sayaka (大貫彩香)
Fukumi Maki (福見真紀)
Kan Natsumi (柑なつみ)
Sezaki Yui (瀬崎ゆい)
Ono Miku (小野美紅)
Ito Marina (伊東まりな)
Ishikawa Misato (石川みさと) – Pero Pero Candy
Chigira Kiyume (千明芸夢) – Lightning
Saito Mitsue (さいとう光恵) – Nico-chan
Yanaka Yuisa (谷中唯彩) – Heart
Discography
Singles
27/02/2013 : Kami Kai Syndrome (神回シンドローム)
27/08/2013 : Homenobi Japanda / Amai Mint (ホメノビ☆じゃぱんだ / 甘いミント)
18/02/2014 : Ikaneba no Musume ~Love Soldier~ (イカネバの娘〜Love Soldiers〜)
17/05/2015 : Link Star (リンクスター)
Albums
03/09/2014 : Links to You
Mini-Albums
01/08/2012 : Tsuna Son (つなソン)
Links
News