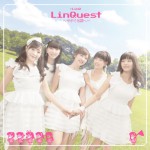 LinQ's new single LinQuest ~Yagate Densetsu e… (~やがて伝説へ・・・ ) will be released on September 9.
This is the 7th single from the idol group from Kyushu, and the 3rd one produced by Maeyamada Kenichi aka Hyadain.
The MV has been revealed.
Takaki Yuumi, Yoshikawa Chiaki, Araki Sakura, Amano Natsu and Sakai Asaka are on the cover of the regular edition.
The limited edition includes a bonus DVD featuring footage from LinQ Lady Super Live Tour 2014.
Moreover, LinQ 4th Anniversary ~Welcome to the LinQworld!!~ concert will be on sale on DVD and Blu-ray on the same day. The event was held on April 18, 2015 at Zepp Fukuoka. Watch the teaser trailer below.
Tracklist
Regular Edition

CD

LinQuest ~Yagate Densetsu e… (LinQuest~やがて伝説へ・・・ )
I, Screamin' (アイ、スクリーミン。)
LinQuest ~Yagate Densetsu e… (Instrumental)
I, Screamin' (Instrumental)
Limited Edition

CD

LinQuest ~Yagate Densetsu e…
Jump Jump Jump!
LinQuest ~Yagate Densetsu e… (Instrumental)
Jump Jump Jump! (Instrumental)

DVD
LinQ Lady Super Live Tour 2014

LinQ Theme (Club Night Remix)
Going my Way! (Shinta Planet Remix)
Egao ni LinQ! (笑顔にLinQ)
Te wo Tsunaide (手をつないで)
Makenai Girls (マケナイガールズ)
Let's Feel Together
Bye-bye Baby Love
My Letter
Music Video (PV)
Live (Digest)