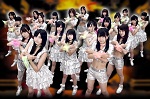 LinQ will make their major label debut in April. The idol group from Kyushu signed with Warner Music Japan. They were under contract with T-Palette Records since November 2011.
LinQ's major debut single Chime ga Owareba (チャイムが終われば) will be released on April 17, which corresponds to the 2nd anniversary of the unit.
The announcement was made during Uehara Asami graduation live (上原あさみ卒業ライブ) held on February 17 at Tenjin Best Hall, Fukuoka.
LinQ's 5th single Chiku-Taku / Going my Way! (Chiku-Taku / ゴーイング マイ ウェイ!) has been released on January 30.