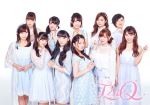 The recent big line-up change shows a new start for LinQ !
Many members left the idol group between last June and August.
LinQ is now reduced to 11 members.
The new formation consists of :
Lady : Yoshikawa Chiaki and Kaizuki Rana
Qty : Araki Sakura, Sakai Asaka, Sakura Manami and Takaki Yuumi, Fukuyama Kana and MYU
Lady/Qty : Kohinata Maina and Yamaki Ayano
A new girl, Ando Chisa, recently joined LinQ as a member of the 8th generation.
The following girls are graduated from the group:
Lady : Mayu Kishida, Naoko Hara, Momosaki Mayu, Ayaka Ōba and Seto Kaede.
Qty : Himesaki Ami, Ito Maki, Iwamoto Kotone, Hishino Mai, Araki Cocoro, and Ōishi Mei.
LinQ had announced during their one-man live at Nakano Sun Plaza, that this structure change would take place from June.
Further information will be communicated later.