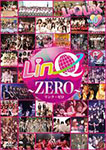 The documentary film LinQ Zero (リンク・ゼロ) ~LinQ LinK Vol.0~ will be released on DVD on April 10.
This documentary follows LinQ from their debut in 2011 to Uehara Asami's graduation concert in February 2013. It features videos of the audition and their live performances.
LinQ will release their major debut single Chime ga Owareba (チャイムが終われば) on April 17.
Their live DVD and Blu-ray LinQ Shinshun Tokubetsu Kouen ~Tanoshimoude~ Akemashite Omedetou Gozaimashite (LinQ 新春特別公演 ~楽詣~(たのしもうで)あけましておめでとうございマ・シ・テ) will be on sale on May 8.