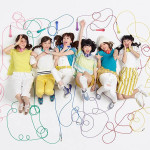 Little Glee Monster's 5th single My Best Friend will be released on May 11th.
My Best Friend is used in a commercial for Round 1 Stadium amusement and sports park located at Zepp DiverCity Tokyo. The members of Little Glee Monster have also participated in this campaign.
The theme is friendship between girls.
This song was played for the first time on the radio on Tokyo FM's School of Lock on April 13th.
Happy Gate is the CM song for Sony Sonpo (ソニー損保).
Never ending dreamer is the theme for the TV show Minna no Koushien (みんなの甲子園) airing on MBS. This track was written and composed by Maeyamada Kenichi aka Hyadain.
The limited edition comes with a bonus DVD featuring the MV and making of Chiisana Koi ga, Owatta (小さな恋が、終わった).
Furthermore, Little Glee Monster will hold the nationwide live tour Little Colorful Monster 2016 from September to October.
Tracklist
Limited ver.

CD

My Best Friend
Happy Gate
Never ending dreamer
JOY
My Best Friend -instrumental-

DVD

Chiisana Koi ga, Owatta (小さな恋が、終わった) Music Video Making
Chiisana Koi ga, Owatta Music Video
Regular ver.

CD

My Best Friend
Happy Gate
Never ending dreamer
JOY
Music Video (PV)