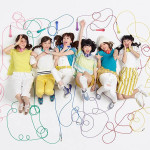 Little Glee Monster is a Japanese idol group and vocal unit formed in 2013.
They are also known as LGM or リトグリ.
The unit currently consists of 6 members. Each one has been assigned a color.
Biography / History
The concept is to create a unit with talented vocalists.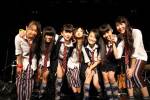 All the girls were students at the Watanabe Entertainment School (ワタナベエンターテイメントスクール).
The 7 original members were Serina, Asahi, Maju, Mayu, Karen, Lina and Yuka.
Little Glee Monster held their first live performance in May 2013.
Lina withdrew in July 2013.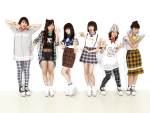 Yuka left the idol group in October 2013.
Their self-titled mini-album Little Glee Monster was released in March 2014.
They participated in Sukkiri!! (スッキリ!!) TV variety show in August 2014.
Manaka was recruited in August 2014.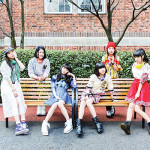 Little Glee Monster made their major debut with the single Houkago High Five (放課後ハイファイブ) released under Sony Music Records in October 2014.
The girls host the show Little Glee no Hamoradio (リトグリのハモれでぃお) airing on Tokai Radio (東海ラジオ) since October 2014.
They appeared in the final episode of the drama Mondai no Aru Restaurant (問題のあるレストラン) in March 2015.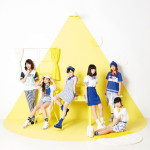 The song Gao Gao All Star (ガオガオ・オールスター) from their 3rd single, on sale in March 2015, is the ending theme song for the anime Pokemon XY (ポケットモンスター XY).
In April 2015, all members except Manaka entered at Watanabe High School (渡辺高等学院).
Little Glee Monster participated in J-Pop Summit 2015 in San Francisco, USA, in August 2015. This event was their first overseas live performance.
The girls played in the drama Onna Michi (オンナミチ) airing on NHK in August 2015.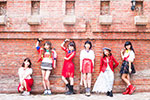 Their 4th single Suki Da (好きだ。), on sale in September 2015, is the theme song for the drama Omotesando Koukou Gasshoubu (表参道高校合唱部!).
In December 2015, the idol group performed the opening act of Ariana Grande Honeymoon Tour at Saitama Super Arena.
Little Glee Monster's 1st album Colorful Monster was released in January 2016. It ranked 4th on the Oricon weekly chart.
In March 2016, the participated in a commercial campaign for for Round 1 Stadium amusement and sports park located at Zepp DiverCity Tokyo. .
Their 5th single My Best Friend, on sale in May 2016, is used in a commercial for this amusement park.
The nationwide live tour Little Colorful Monster is going to be held from September to October 2016.
Profile
Little Glee Monster (リトル・グリー・モンスター) / LGM, リトグリ
Years active : 2013 – present
Label : Sony Music Records
Agency : Watanabe Entertainment
Members
Hasegawa Serina (長谷川芹奈) – Blue
Kobayashi Asahi (小林あさひ / アサヒ) – Yellow
Arai Maju (荒井麻珠) – Red
Yoshida Mayu (吉田真悠) – Green
Koga Karen (古賀かれん) – Pink
Fukumoto Manaka (福本まなか) – Purple
Former Members
Sakamoto Yuka (坂本有香) – Orange
Yoshimura Lina (吉村リナ) – Purple
Discography
Singles
29/10/2014 : Houkago High Five (放課後ハイファイブ)
04/03/2015 : Seishun Photograph / Girls Be Free! (青春フォトグラフ / Girls be Free!)
15/07/2015 : Jinsei wa Ichido Kiri / Gao Gao All Star (人生は一度きり / ガオガオ・オールスター)
23/09/2015 : Suki Da (好きだ。)
11/05/2016 : My Best Friend
Mini-Albums
16/03/2014 : Little Glee Monster
Albums
06/01/2016 : Colorful Monster
Links
News