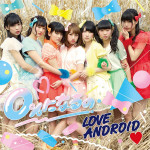 Love Android's new single 0% ni Naru no (0%になるの) will be on sale on May 1.
This is the 2nd single by Love Android.
The idol group sings happy and sentimental songs.
5 editions are available. The B-side track is different depending on the version.
Furthermore, Love Android are going to perform at CLAS:H 2015 in Jakarta, Indonesia, on May 9. This event will be their first live outside Japan. Starmarie, Pink Babies and Faint Star will also participate in the festival.
Tracklist
Type A & B

CD

0% ni Naru no (0%になるの)
Oshiete Doctor (教えてドクター)
0% ni Naru no (Off vocal)
Oshiete Doctor (Off vocal)
Type C, D & E

CD

0% ni Naru no
World End (ワールドエンド)
0% ni Naru no (Off vocal)
World End (Off vocal)