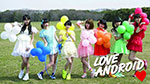 Love Android is a Japanese idol group formed in August 2014.
It currently consists of 5 members. Each one has been assigned a color.
Biography / History
The idol unit performs pop songs featuring sentimental melodies.
Their fans are called the "doctors". They take care of the girls by sending "love" by telepathy.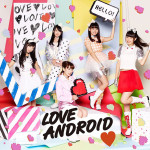 Love Android released simultaneously their 1st single Kyuuseishu Telepathy (救世主☆テレパシー) and their 1st mini-album Love Love in November 2014.
The idol group held its 1st live Hello! Doctor in March 2015 at Shinjuku Reny, Tokyo.
Their 2nd single 0% ni Naru no (0%になるの) went on sale in May 2015.
Love Android partiicipated in CLAS:H 2015 in Jakarta, Indonesia, in May 2015. This event was their first overseas live performance.
Profile
Love Android (ラブアンドロイド)
Years active : 2014 – present
Label : Tsubasa Records
Agency : –
Members
Momoko (ももこ) – Pink
Nono (のの) – Orange
Todo Lana (藤堂ラナ) – White
Ranchaso (らんちゃそ) – Red
Sena. – Yellow
Discography
Singles
05/11/2014 : Kyuuseishu Telepathy (救世主☆テレパシー)
01/05/2015 : 0% ni Naru no (0%になるの)
Albums
Links
News