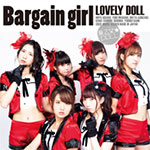 Lovely Doll's new single Bargain Girl will be released on November 26.
This is the 3rd single from Lovely Doll.
The MV has been unveiled.
The members of the idol group are wearing sexy outfits in the video. Lico was in charge of the complex choreography. The girls have a natural makeup.
The song is about love. The theme is "look at me more".
The Type A contains 3 songs and their instrumental versions. It comes with a DVD featuring the music video and bonus footage.
The Type B and C include only one B-side track.
Tracklist
Type A

CD

Bargain Girl
Koi no Magic (恋のマジック)
Digital Date
Bargain Girl (off vocal)
Koi no Magic (off vocal)
Digital Date (off vocal)

DVD

Bargain Girl (Music Video)
Unit Battle Shouri Tokuten "Sayonara to Kimi ga Itta" (ユニットバトル勝利特典「サヨナラと君が言った」) (Music Video)
Type B

CD

Bargain Girl
Koi no Magic
Bargain Girl (off vocal)
Koi no Magic (off vocal)
Type C

CD

Bargain Girl
Digital Date
Bargain Girl (off vocal)
Digital Date (off vocal)
Music Video (PV)