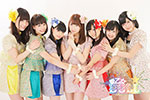 Lovely Doll (愛乙女★Doll) is Japanese idol group formed in 2011 by Arc Jewel. They are also known as Love Doll (らぶどる).
It currently consists of 7 members. Each one has been assigned a color.
Lovely Doll (愛乙女★Doll) is a sister group of Doll☆Elements, Ange☆Reve, Luce Twinkle Wink☆ and Stella☆Beats. They were the first idol unit of the franchise produced by Arc Jewel.
Their catchphase is "your doll at any time" (いつでもあなたのお人形♪).
Aisako Miyu and Sano Yuriko are former AKB48 Kenkyuusei.
Biography / History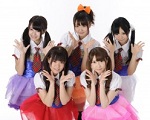 Lovely Doll 1st Live ~Watashitachi ni Original wo Kudasai~ (☆らぶどるワンマン1st☆~私たちにオリジナルを下さい~) was held in April 2011 at Ueno Brash in Tokyo. 70 people attended the event.
Hanazono Mayu graduated from the idol unit in April 2011.
In late 2011, the 3th generation Kenkyuusei Tamechika Anna, Gonda Natsumi, Tonosaki Rika, Ayamori Aoi and Kojima Runa formed Doll☆Elements.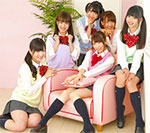 Lovely Doll released their 1st single Go!! My Wish!! in August 2012.
Kanno Marina and Iwata Akane announced their graduation in August and in September 2012.
Matsudo Mirano and Hiratsuki Mai withdrew in March 2013. Both girls were part of Kenkyuusei.
The idol group released its 1st album Doll Collection I in August 2013.
The 4th generation Kenkyuusei formed Love Ken (らぶ☆けん) in December 2013. The members are split into 2 sub-units named Luce (ルーチェ) and Stella (ステラ).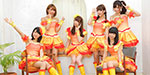 Lovely Doll released their major debut single High Jump!! under Nippon Crown label in April 2014.
Ashizaki Maya had to take a temporary break due to poor physical health in October 2014.
Ota Riona, Sakura Miki and Nakagawa Rira joined the idol group as new members in March 2015. Ota Riona is a former NMB48. Nakagawa Rira was part of Jewel Kiss.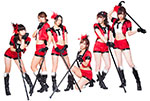 Yoshihashi Arisa (ex iDOL Street e-Street Tokyo) was recruited a few weeks later.
Iwasaki Yuki announced her graduation in April 2015 because of health problems.
Ashizaki Maya and Tsuduki Kana graduated in May 2015.
Tsuduki Kana pursues her career as a solo idol. Her new artist name is DJ Kana-chan (DJカナチャン).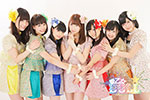 Lovely Doll signed under AsobiSystem's label Fujiyama Project Japan along with Yamaguchi Kassei Gakuen and Niji no Conquistador in May 2015.
Tsuduki Kana, aka DJ Kana-chan, participated in Japan Expo 2015 in Paris Nord Villepinte, France, in July 2015.
The name of their fan club is Doller House.
Profile
Lovely Doll (愛乙女★Doll)
Years active : 2011 – present
Label : Fujiyama Project Japan
Agency : Arc Jewel
Members
Aisako Miyu (愛迫みゆ) – Pink
Haruna (ハルナ) – Green
Sano Yuriko (佐野友里子) – Yellow
Ota Riona (太田里織菜) – Red
Nakagawa Rira (中川梨来) – Orange
Sakura Miki (佐倉みき) – White
Yoshihashi Arisa (吉橋亜理砂) – Blue
Former Members
Hanazono Mayu (花園まゆ)
Kanno Marina (管野まりな)
Iwata Akane (岩田あかね)
Matsudo Mirano (松戸ミラノ)
Hinatsuki Mai (雛月麻衣)
Iwasaki Yuki (岩崎夢生) – Orange
Ashizaki Maya (芦崎麻耶) – Purple
Tsuduki Kana (都築かな) – Blue
Discography
Singles
22/08/2012 : Go!! My Wish!!
05/02/2013 : Bitter Choco Valentine (ビターチョコ・バレンタイン)
18/06/2013 : Paradise in the Summer
18/12/2013 : Aoi Sora wo Nozomunara (蒼い空を望むなら)
09/04/2014 : High Jump!!
27/08/2014 : Setsunatsu, Diver (セツナツ、ダイバー)
26/11/2014 : Bargain Girl
21/07/2015 : Calendar Girl (カレンダーガール)
Albums
13/08/2013 : Doll Collection I
Links
News