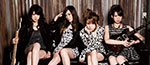 LoVendoR's new mini-album Bukiyou (不器用) will be released on April 23.
In addition, the rock band lead by former Morning Musume member Tanaka Reina announced a nationwide concert tour.
The MVs have been released.
LoVendoR's album contains 5 songs. It includes a DVD with MV and live footage recorded at Ebisu Liquid Room in Tokyo on December 26, 2013
Bukiyou was available on presale on March 29-30 at Forest for Rest ~Satoyama & Satoumi e Ikou 2014~ at Pacifico Yokohama.
LoVendoЯ Live Tour 2014 SprinteЯ ~Bitter&Sweet~ will be held from April 15 to July 19 across Japan. The idol unit Bitter & Sweet will participate in the concert tour along with Tanaka Reina's band.
Tracklist
CD

Bukiyou (不器用)
Musebinaku (むせび泣く)
880 Yen (880円)
Bingo
Dakedomo Ichido Soredemo mou Ichido (だけどもう一度 それでももう一度)
DVD

Bukiyou (不器用) (Music Video)
Musebinaku (むせび泣く) (Music Video)
Jinsei Maniac (人生マニアック) (Live @ Liquid Room)
Omou ga mama wo Shinjiru (思うがままを信じて) (Live @ Liquid Room)
Bingo (Live @ Liquid Room)
Music Video (PV)