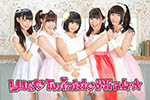 Luce Twinkle Wink☆ is a Japanese idol group formed in 2014 by Arc Jewel.
It currently consists of 5 members. Each one has been assigned a color.
The leader is Usami Yukino.
Biography / History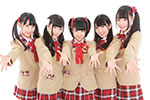 Luce Twinkle Wink☆ is a sister group of Lovely Doll (愛乙女★Doll), Doll☆Elements, Ange☆Reve and Stella☆Beats.
The girls were part of the 4th generation Kenkyuusei (期研究生). They belonged to Love Ken (らぶけん!) along with Stella☆Beats.
Higaki Kaho is a former member of C-Zone.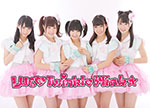 Nishikiori Megumi was previously a member of Hydrangea.
Fukasawa Saki was part of coro☆coro with 深沢紗希.
Luce Twinkle Wink☆ debuted their activities in May 2014.
Their 1st single Setsuna Halation (刹那ハレーション) was released in September 2014.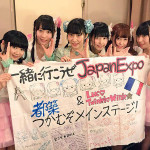 In March 2015, the idol unit's 2nd single You Are a Star was the ending theme song for the variety show musicる TV airing on TV Asahi.
Luce Twinkle Wink☆ participated in Japan Expo 2015 in Paris Nord Villepinte, France, in July 2015. It is their prize for winning the Tokyo Candoll contest. This event was their first overseas live performance.
The idol group signed under NBC Universal Entertainment Japan label in the summer of 2015.
Their major debut single Koiiro Shikou Kairo (恋色♡思考回路) was released in November 2015. It is the theme song for the PS Vita dating simulation game To Love Ru Darkness True Princess (To Loveる ‐とらぶる‐ ダークネス トゥループリンセス).
Usami Yukino and Nishikiori Meguri make regular appearances on the radio show A&G Artist Zone the Catch on Nippon Cultural Broadasting (文化放送 ; JOQR) since April 2016.
Luce Twinkle Wink☆'s 4th single 1st Love Story is going to be on sale in June 2016. It is the opening theme for the anime Netoge no Yome wa Onnanoko Janai to Omotta? (ネトゲの嫁は女の子じゃないと思った?) based on the light novel of the same name.
Their fan club is named Winker Palace.
Profile
Luce Twinkle Wink☆ (ルーチェ トゥインクル ウィンク)
Years active : 2014 – present
Label : NBC Universal Entertainment Japan
Agency : Arc Jewel
Members
Nishikiori Megumi (錦織めぐみ) – Yellow
Higaki Kaho (桧垣果穂) – Purple
Usami Yukino (宇佐美幸乃) – Pink
Itayama Saori (板山紗織) – Blue
Fukasawa Saki (深沢紗希) – Red
Discography
Singles
30/09/2014 : Setsuna Halation (刹那ハレーション)
10/03/2015 : You Are a Star
25/11/2015 :  Koiiro Shikou Kairo (恋色♡思考回路)
01/06/2016 : 1st Love Story
Albums
Links
News