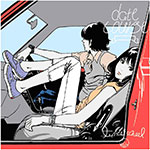 Lyrical School (ex Tengal 6) will release their new album Date Course on September 18.
This album contains 13 songs including the latest singles of Lyrical School Sorya Natsu Da! (そりゃ夏だ!), Oide yo (おいでよ), Ribbon wo Kyutto (リボンをきゅっと), and Parade.
A LP version of Date Course will go on sale on October 2.
The illustration of the cover has been drawn by the mangaka Eguchi Hisashi.
Moreover, a live tour titled Lyrical School Date Course Special Tour will be held from October 5 to November 3.
Tracklist
Drive
Sorya Natsu Da! (そりゃ夏だ!)
Wow ♪
Ribbon wo Kyutto (リボンをきゅっと)
Nagareru Toki no you ni (流れる時のように)
Parade
Turn
Demo (でも)
P.S.
Hitori Bocchi no Labyrinth (ひとりぼっちのラビリンス)
Taxi
Oide yo (おいでよ)
My Kawaii Nichijoutachi (Myかわいい日常たち)