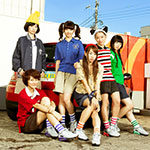 Lyrical School's new single Waratte.net / My Kawaii Nichijoutachi (わらって.net / Myかわいい日常たち) will be released on December 11.
This is a double A-side single. 2 versions are available.
The limited edition includes 2 bonus tracks recorded during at the live Date Course Special Tour Final held at Shibuya Museum Sound Vision on November 3.
The music video has been released.
Moreover, Lyrical School Official Store will be opened at OIOI City Shibuya in Tokyo from December 10 to 16.
Regular Edition
Waratte.net (わらって.net)
My Kawaii Nichijoutachi (Myかわいい日常たち)
Waratte.net (わらって.net) (Instrumental)
My Kawaii Nichijoutachi (Myかわいい日常たち) (Instrumental)
Limited Edition
Waratte.net (わらって.net)
My Kawaii Nichijoutachi (Myかわいい日常たち)
Parade (Date Course Special Tour Final)
Photograph (Date Course Special Tour Final)
Waratte.net (わらって.net) (Instrumental)
My Kawaii Nichijoutachi (Myかわいい日常たち) (Instrumental)
Music Video (PV)