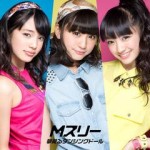 M Three's debut single Yume Miru Dancing Doll (夢見るダンシングドール) will be released on March 27.
M Three is a sub-unit of Fairies consisting of Shimomura Miki, Fujita Miria, and Hayashida Mahiro.
The limited edition Type A includes a bonus DVD featuring music video and making-of footage.
The limited edition Type B comes with a 28-page photobook.
The title song is the ending theme for the variety show Akko ni Omakase! (アッコにおまかせ!) broadcasted on TBS.
Regular Edition
CD

Yume Miru Dancing Doll (夢見るダンシングドール)
Glory Days
Yume Miru Dancing Doll (夢見るダンシングドール) (Instrumental)
Glory Days (Instrumental)
Limited Edition Type A
CD

Yume Miru Dancing Doll (夢見るダンシングドール)
Glory Days
Yume Miru Dancing Doll (夢見るダンシングドール) (Instrumental)
Glory Days (Instrumental)
DVD

Yume Miru Dancing Doll (夢見るダンシングドール) (Music Video)
Yume Miru Dancing Doll (夢見るダンシングドール) (Making of)
Limited Edition Type B
CD

Yume Miru Dancing Doll (夢見るダンシングドール)
Glory Days
Yume Miru Dancing Doll (夢見るダンシングドール) (Instrumental)
Glory Days (Instrumental)
M Three – Yume Miru Dancing Doll (PV Full Version)
M Three – Yume Miru Dancing Doll (Dance Version)