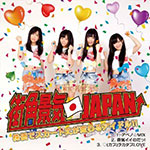 Machikado Keiki Japan's debut single Abeno Mix (アベノ☆Mix) will be released on May 1.
Machikado Keiki Japan is a new idol group part of Alice Project. It has an original concept which consists in changing the length of the members' skirts according to the economic situation.
The CD contains 3 songs. Regular and limited editions are available.
The title of the single refers to "Abenomics", the name given to the Japanese Prime Minister Shinzo Abe's plan for the country's economic recovery.
Tracklist
Abeno☆Mix (アベノ☆Mix)
Keiki ii noda! (景気いいのだ!)
Kaburakataburabu (カブラカタブラブ)
Music Video