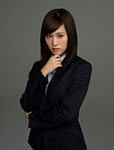 Former AKB48 member Maeda Atsuko will be starring in the movie Eight Ranger 2 (エイトレンジャー2).
Maeda Atsuko is going to play as Saigo Jun who is a reporter for a weekly magazine. She follows sentai superheroes, performed by the members of the band Kanjani8 (関ジャニ∞), in their activities.
Eight Ranger 2 will be released this summer.
The film was directed by Tsutsumu Yukihito who made the MV for AKB48's Flying Get (フライングゲット). Maeda Asuko said that she was happy to work with him again.
As its title suggests, the story is the sequel of the movie of the same name which had been a success in 2012.