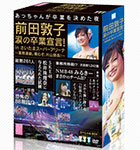 Maeda Atsuko Namida no Sotsugyou Sengen! in Saitama Super Arena ~Gyoumu Renraku. Tanomuzo, Katayama Buchou!~ (前田敦子 涙の卒業宣言! in さいたまスーパーアリーナ 〜業務連絡。頼むぞ、片山部長!〜) will be released on Blu-ray on July 3.
The concert was held from March 23 to 25, 2012, at Saitama Super Arena. Former AKB48 member Maeda Atsuko had announced her graduation during this event.
The Blu-ray box set includes 7 discs featuring the 3 days of the concert.
It comes with a 132-page booklet and 5 photos.