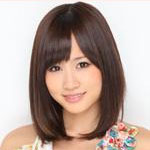 The official website of Maeda Atsuko has been opened.
The site has currently poor content. The fans can subscribe to a free mail magazine in Japanese. Other features will be added later. It also hosts Maeda Atsuko official fan club.
Moreover, Maeda Atsuda announced that she won't participate in the AKB48 5th Senbatsu Election 2013. Acchan explained that she will be abroad for a filming during this period.