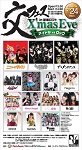 Shizukaze & Kizuna, hy4_4yh, Izukoneko, AeLL, Negicco, Kaiketsu! Tropical Maru, Mary Angel, KNU, R☆M (RAM), and other idols will perform at Majiwari Fes!! Christmas Live in Shinjuku Loft ~Idol vs Rock~ (交フェス!!クリスマスイブin新宿ロフト~アイドルvsロック~).
The rock bands New Roteka and The Maintenance will also participate in the event.
The live will be held on December 24 at Shinjuku Loft, Tokyo.
Schedule
Date :24/12/2012
Time : 14:00
Venue : Shinjuku Loft, Tokyo
Line up :

Shizukaze & Kizuna
hy4_4yh
Izukoneko
AeLL
Negicco
Kaiketsu! Tropical Maru
Mary Angel
KNU
R☆M (RAM)
Hamada Yuri
Sacchan (Nakajima Saya)
Versus Kids
New Roteka
The Maintenance