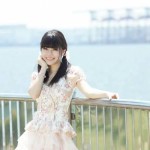 Maruyama Karin (丸山夏鈴) is a special idol. For those who don't know her,  she has a cancer and a brain tumor. Nevertheless, she pursues her activities despite the disease in order to realize her dreams.
Our friends at Pure Idol Heart published an article about the story of Maruyama Karin.
Her new single Eternal Summer was released on February 28.
Maruyama Karin was born in August 1993 in Fukushima Prefecture. Her nickname is Rin-chan. She made her debut in 2012. She was semifinalist of the Kodansha's Miss iD 2013 audition.
She held a live performance on February 7 in Tokyo. However, Rin-chan was not able to dance due to poor physical health. She went to the hospital in the same morning as the cancer reached her lungs. Despite this, she still wanted to see her fans. Check out some videos below.
Read the full article about Rin-chan on Pure Idol Heart : Maruyama Karin : The Eternal Idol on the Stairway of Dreams
We wish her all the very best in her fight against cancer.
Please support her by buying her CD single.
Update : Maruyama Karin passed away on May 22, 2015.
Tracklist
Eternal Summer
Anata to Watashi (あなたと私)
Eternal Summer (Instrumental)
Anata to Watashi (Instrumental)
Videos