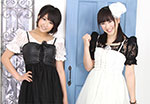 Mary Angel (メアリーエンジェル) is a Japanese idol group formed in 2007.
It currently consists of 2 members : Yu-ka and Risa. Each one of them has been assigned a color.
The idol unit is from Kansai area.
The name Mary comes from the initials of the 3 original members.
Biography / History
The girls were 11 years old and in elementary school when the idol group was formed in 2007.
Their debut single Angel Wing was released in December 2007.
Mary Angel held their 1st live performance in late December 2007.
The idol group suspended its activities during 42 days in the beginning of 2011 before a new start.
Maya announced her graduation in September 2011.
They were finalists of U.M.U. Award 2011.
In 2012, the girls have been appointed as PR ambassadors of Osaka.
In August 2013, Mary Angel collaborated with Gotochi Hello Kitty (ご当地キティ).
Yu-ka and Risa announced their graduation from Mary Angel and Fine Promotion in February 2015. The idol group will disband after this event.
Profile
Mary Angel (メアリーエンジェル)
Years active : 2007 – present
Label : Clestar Record
Agency : Fine Promotion
Members
Yu-ka – Pink
Risa – Green
Former Members
Discography
Singles
01/12/2007 : Angel Wing
26/08/2009 : Brand New World
28/07/2010 : Shunkan ~Shine Heart~ (瞬間 ~Shine Heart~)
29/06/2011 : Succeed
15/02/2012 : Like an Angel
16/01/2013 : Mousou Shoujo Mary (妄想少女メアリー)
27/11/2013 : Nanairo (ナナイロ)
02/07/2014 : Gensou Chronicle (幻想クロニクル)
Albums
16/03/2011 : Magical Star ☆≡ (まじかる・スター☆≡)
08/08/2012 : Happy Days!!
Links
News